HD-CVI Dome Camera
HD-CVI Dome Cameras that transmit video over coaxial cable. They are durable, reliable and affordable. We offer a variety of models that record high definition footage ranging from 1.3 megapixels to 2 megapixel resolution. Each of these security cameras record HD video both day and night and we offer many models that are approved for outdoor use. These surveillance cameras transmit video signals over coaxial cable which makes them the ideal choice for upgrading from standard to high definition. Browse our selection to find the best model to protect your home or business.
http://www1.dahuasecurity.com/products_category/hdcvi-camera-388.html
Dahua Launches New IP and HDCVI Fisheye Series
Dahua is pleased to introduce five new fisheye cameras to its Video Surveillance product portfolio, including the world's first 4K fisheye for coaxial infrastructure.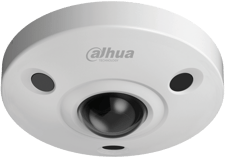 The latest in HD and UHD imaging combined with fisheye technology provides exceptional detail for applications that require broad coverage. Dahua's proprietary HD-over-coax technology adds even more innovation to the mix, with the 4MP Pro Series HDCVI fisheye (A42AR2) and the 4K Ultra Series HDCVI fisheye (A83AR6). The A83AR6 fisheye is the first 4K HDCVI fisheye in the industry to use coaxial infrastructure.

HDCVI allows for transmission of HD and UHD images over coaxial cabling at distances of up to 1640 feet. This maximizes investment in legacy infrastructure by delivering forensic-level images without the need to rip and replace cabling. The 4K and 4MP HDCVI fisheye cameras are equipped with multiple edge dewarping modes and provide a 180° / 360° view that eliminates blind spots.

Dahua is also bringing three network fisheye cameras into the Ultra Series lineup: two 6MP options (N68BR4 and N68BR4V) and a 12MP model (NK8BR4). The N68BR4V incorporates Panomorph technology from ImmerVision Enables®, an industry leader in 360° solutions and applications. Its optics increase the pixels of the target image, improving the resolution of objects at the edge of the field of view.

Other benefits of the new network fisheye cameras are STARVIS sensors for superior low-light capability, edge dewarping, true day/night IR cut filters for varying lighting conditions, and Intelligent Video System (IVS) analytics for more efficient monitoring. These cameras also feature Dahua's innovative H.265 compression codec, which reduces bandwidth and storage requirements by up to 50% compared to standard H.264.

---